Marc Marc 1997
Moscow WatchDog
A watchdog sees when the software of the Art Moderne terminal crashes. If this happen it resets the computer to restart the software.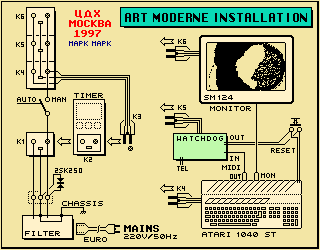 The way that the WatchDog functions is very primitive. Its the same as done in Micro Controllers. A counter chip counts up to a certain number and then resets the computer unless the computer send a reset pulse to the counter chip before it has reached this number.
Basically this only requires a counter chip with a reset input, clock pulse generator and reset interfacing but, because I did build the unit with its own power supply, some extra interfacing and safety precautions, the final diagram has become more than basic.