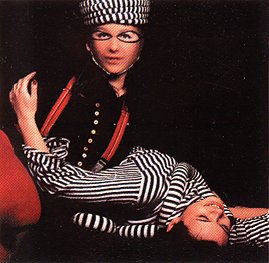 Lena is a designer.
Apart from models for shows, theatres, she carries out the orders for models with "boutique" paintings. Makes models of exclusive shirts, dress, ties, components of an interior. She is also engaged in making of collection dolls. In the "Studio - 110" together with photographers-professionals, Lena works on creation of image, trial photograph, photo-picture. Telephone of the "Studios - 110": 196-45-52.
" ... In the "Studio 110" they presented me a striped fabric and, besides that, it was plenty, they offered me to try something to make, - I have tried. Something has turned out completely unimaginable i.e. something like strange creations, flexible, with elongated arms, very lively and awfully striped. And, after that, my enthusiasm for stripes began. I even have thought out my own new reality i.e. strip reality. Here it is important to understand, that if a conversation on style is to be carried out, then today it can be either a style perfected as a result of long work of a fashion house, or insignificant component, but successful and well used, in the spirit of the present time. It seems to me, that strip can be a fashion. I even wanted to carry out research: what it means that strip in various eras..."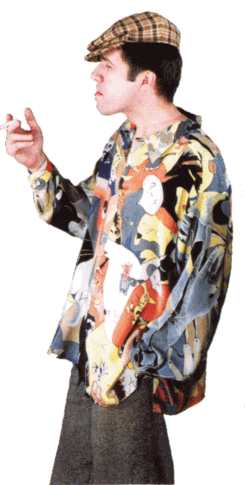 A person dressed up in that or other costume, as if plays various vital situations, by trying on itself to various images. Life, it is a theatre, maxim is so banal, so far as and fair. Each day in various situations we play our roles: at home - husband (wife), son (daughter), father (mother); at work - chief or subordinate; in the bus, in the shop, in bed we conduct a part, in which we are living on a background of the offered scenery, in the play not directed by us. A costume, possibly, the little what is dependent on our choice and also allows gently (and can be in full voice?) to pronounce own, occasionally suffered the prolonged, cloaked in by cigarette smoke nights the monologue.
Exactly at that moment, when you cannot be unrepresented yourself any more, the play comes forward to help. The costume becomes the second skin, the mask replaces the person. The thinnest fabric becomes impenetrable armour against ill-natured looks, the lightest dresses, not hiding a body, protects from curious stare of soul.
111539, Moscow, street Stariy Gay, house 1, corp. 4, flat 104. Basova Elena Stanislavovna
Photogarphy: D. Davydov
Logo design: Irina Stuenze
Translated from Russian to English by Kulik Irina Alexandrovna. Email: irinakulik_99@yahoo.com