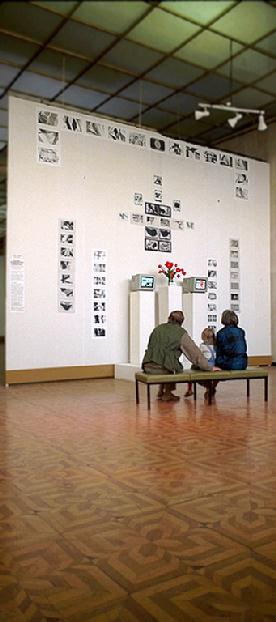 Wall of graphics
For 8 days the visitors of the central House of Artists were confrontated with our 'Wall of graphics'. Two (sometimes 3) computer monitors were showing the act of Auto Composing and Moving Graphics For the average Russian audience, whom in contrast to west-people visit a museum quit often, this was something they never had seen. For the artistic and designer audience it was a prove that times were changing in the USSR and a welcome hint for their own work. Even the guys that worked with their super graphic computers at the TV stations were amazed what could be done on a relativly simple computer platform like an Atari ST. The contact with the audience was very satifying due to their open attitude towards our Art.
Auto Composing (Marc Marc) and Moving Graphics (Benten) are based on an interactive development. Combining program knowledge and artists expertise to create software that is able to create Art by itself. This Art is not only physically created by the machine but also the process of creation, as a typical human aspect, is given over to the machine. This goes beyond the mathematical based graphic procedures. We made the machine a part of our inner world. The inner world that is due to the phenomenon of mankind.
The advantage of having an exhibition in the Central House is not so much the prestige on itself but more the fact that there are so much people visiting it and that it is a meeting place for all artists, writers, designers , architects etc. Never a dull moment and it indicates that something is terrible wrong with the functioning of the musea in the west.
We own special thanks to Sergey Maloutin; our supervisor, manager, bodyguard and baby sitter, Natasha & Eugene Bikov from NB associates who presented us, Natasha Makarevich who created the room for us, Georgi Pachikov and all members of the Moscow teens computer club who sponsored us with the computers, Vladimir Koorapatov the director of the Central House who allowed us, Ira & Julia & Boris for initial support and to many artists who invited us to their studios and taught us how to drink a lot of wodka without getting drunk.