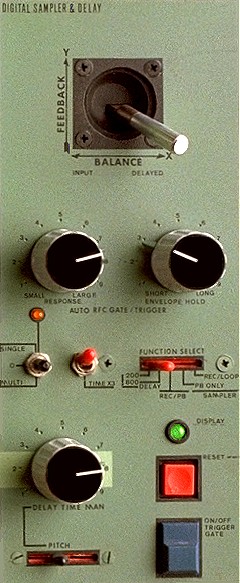 Modified Delay & Sampler
An example of a typical possibility of the CD333 due to special modification: The delay line is specially modified to serve automatic switching from record and playback of the sampling possibility of the delay line. In combination with the envelope follower and trigger unit it is possible to let the sampler respond to certain levels to capture a sample and automatically start to play it back. Depending on the feedback level very interesting sound structures can be build up automatically (stacking of sounds). The sound structure renews it self because it is fed by a new sample mixed into the existing sound structure depending on the feedback level.
The delay time can be controlled by a voltage. By combining the dynamic voltages from the two function generators and the noise/random generator and by selecting wave forms & combining different frequencies and depending on the delay-range, a wide range of effects can achieved.
All the effects which are based on a time-delay (phasing, flanging, reverb, echo, doubling) can be dynamically controlled in many ways and also in very original ways to achieve more personal created effects.
The replace meant of Normal/Delay Balance and Feedback by a joy stick lets you dynamically play with the effects with a single hand.
Because the control voltage specifications match with the analog synthesizer / Sequencer, it is possible to easily integrate the CD333 in a total setup